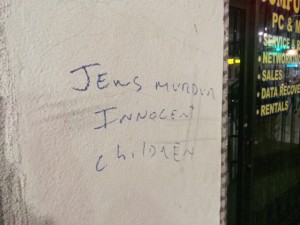 I found this walking down Santa Monica Blvd. just west of Sawtelle, on the South side of the street.  I registered this with ADL and they worked with the city of Los Angeles to have it removed.  I also posted it on Facebook, but they removed it after a week without giving a reason… along with a few threads that went along with it.
I'm not sure what I can do to contest Facebook's decision to drop this picture, but it's either gross negligence or flat-out anti-Semitism on their part.  This was a shock to everyone who saw it, and we had a good thread going on how to deal with it.
Here's the old link:  facebook.com/photo.php?fbid=10154568647330637&set=a.64370195636.141227.591625636
More later.