I knew it the moment I saw the camera footage CNN showed claiming an IDF soldier shot an Arab with live ammo.  It was fake.
Not just because the guy fell to the ground in a way that would make an Italian soccer player blush.  But because the scene looked quite familiar.  And it is.  It's a known "Pallywood" fake death site.
Take a look two screen grabs.  Here's the current stage of the West Bank "shooting":
And here's the stage of the above Pallywood video: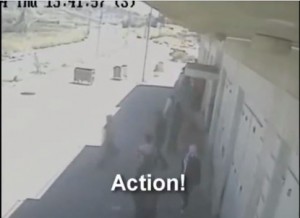 Everything is the freaking same.  They didn't even bother to move the dumpsters.
Now, to me this isn't another "gotcha" moment for Pallywood.  Arab sympathizers spam lies like Hamas spams rockets, and it gets tiresome to constantly catch them.  No, this time I point the finger at CNN.
Because, much like the White House State Department, established institutions need to do a basic level of fact checking before they make public statements.  To not make even this rudimentary level, before attaching it to the POTUS or a major media channel, is no longer a glitch or some oversight.  You become complicit in spreading lies and corrupting an institution.
To benefit terrorists, at that.
UPDATE: Turns out the two videos are actually the same video.  From back in May. Apparently CNN also likes to recycle old footage.
Pallywood fall (2:55):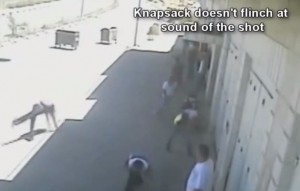 CNN fall: